How to read Kindle books on reMarkable?
If you want to read Kindle books on reMarkable, you need to remove DRM from Kindle books and convert Kindle to EPUB/PDF.
People always use reMarkable for reading documents, sketching, and note-taking when they work or study. But you can also use it as an e-Reader, just like Kindle. If you have both Kindle books and reMarkable, you may want to know if could it be possible to read Kindle books on a reMarkable.
Sadly, from the reMarkable official website, the answer is no. They said Kindle e-books are not supported. As you know, reMarkable can be used as a normal e-Readers for reading books and creating handwritten notes. But many e-books are DRM protected, so you can only read DRM-free e-books in EPUB/PDF on reMarkable. So does it mean that there is no way to read Kindle books on reMarkable? We discuss this question in this article and help you find the best solution.
How come reading Kindle books on reMarkable is challenging?
It's not as easy as you imagine. If you want to read Kindle books on reMarkable, two major obstacles must be overcome: DRM and eBook Format. That means you need to remove Kindle DRM and convert the format of Kindle books to EPUB or PDF, which is currently supported on reMarkable.
Unfortunately, Kindle books are DRM-protected, and can not be read directly as PDF/EPUB. We all know that Kindle always has its specific ecosystem, in general, other e-readers cannot always support the Kindle e-books. Only if we solve two problems, everything will be easier. Don't worry, you're on the way to reading Kindle books on reMarkable successfully. We're willing to share some solutions with you!
In addition, you may want to ask if all e-books have DRM. No, it depends on publishers, a majority of the e-books are DRM protected. If you want to confirm if a Kindle book has DRM, you can search for this book on the Amazon Kindle Store, and scroll to "Product Details", if the simultaneous device usage is unlimited, it proves that it's a DRM-free book just like the picture below.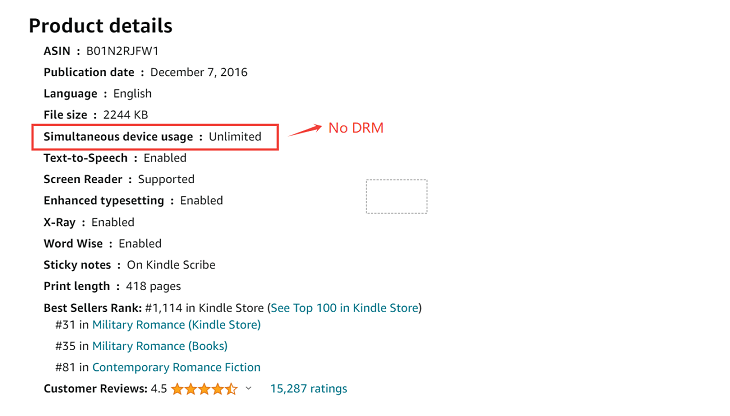 Please Note: But we can not make sure that all books with this information have non-DRM, the simplest way is to open this book with an eBook manager that supports almost all the files, just like Calibre. If you cannot read it, that means the book is locked by DRM.
Step 1: Make Kindle books compatible with reMarkable tablet
Read Kindle books DRM-protected on reMarkable - imElfin Ultimate
Although Calibre is really a great free tool, it cannot handle the majority of Kindle books with DRM. So we recommend you imElfin Ultimate, that's the perfect software to help you remove the Kindle book's DRM as well as convert the e-book format to EPUB/PDF. This software is compatible on Windows and Mac. Here is a simple instruction of how to use it on Windows. If you have a Mac, the operation is a little bit different.
For Mac Users:, please follow the detailed guide remove Kindle DRM for Mac.
For Windows Users:Please find the detailed steps from How to Remove DRM from Kindle on Windows.
Download imElfin Ultimate for FREE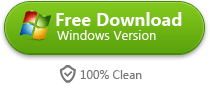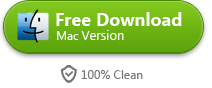 Step 2: Transfer Kindle books to reMarkable and enjoy reading!
When you get your Kindle books DRM-free and in EPUB/PDF format, it's time to transfer them to your reMarkable device via USB cable or reMarkable desktop app. Once imported, your files will be synced across your connected devices. Finally, you're able to read Kindle books on your remarkable.
Transferring files via USB cable is really simple, next, let us show you how to transfer Kindle books through the reMarkable desktop app.
The desktop app can be installed on the following operating systems: Windows 10 and newer or macOS 10.13 and newer.
Firstly: Go to reMarkable website and and log in to your account.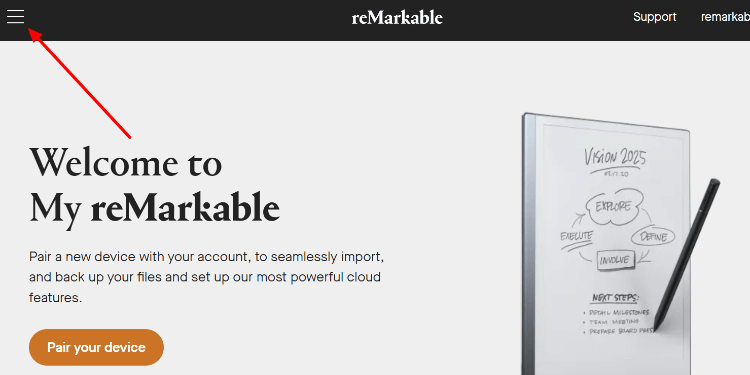 Secondly: Click "Device & apps" in the menu in the upper-left corner, and download the app.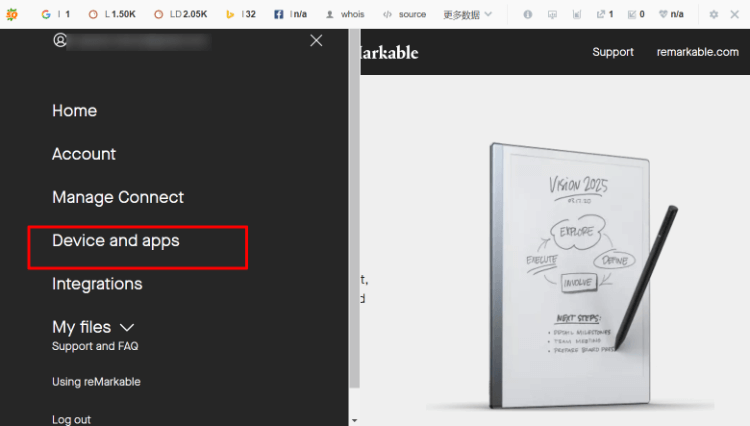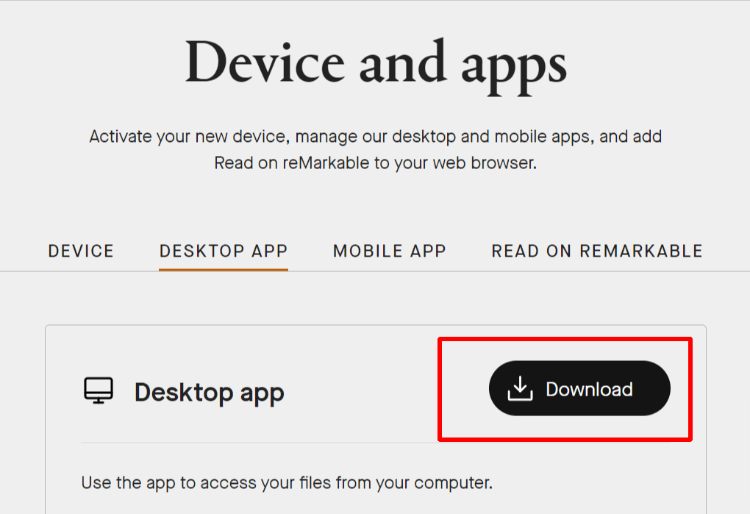 Thirdly: After reMarkable app is installed, then run the app and repair your reMarkable device by code.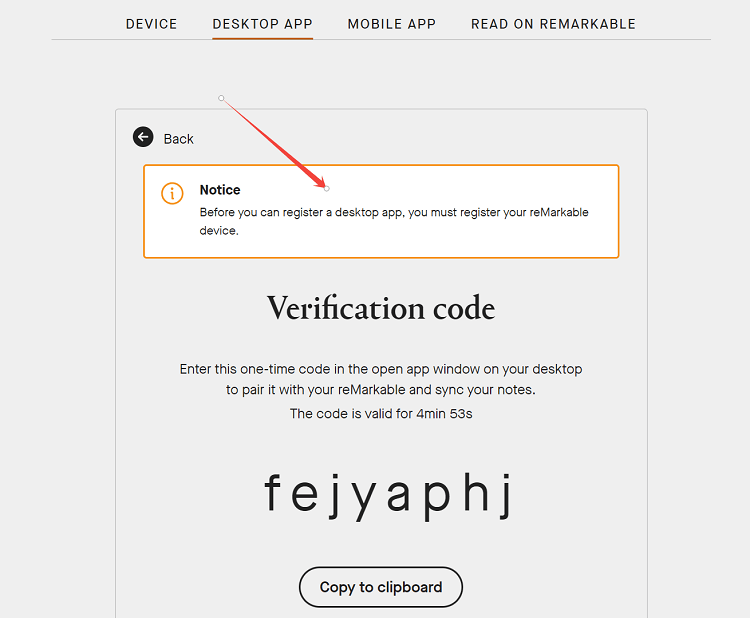 Finally: Just drag your Kindle books files that have been converted to EPUB/PDF into the application window, and then you can find and read them in your reMarkable.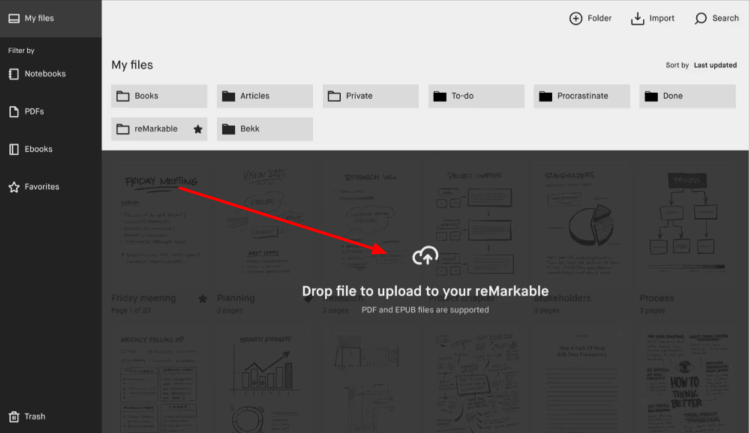 Conclusion
Only if we solve the problem of format conversion and DRM removal, it couldn't be easier to read Kindle books on reMarkable. Why not start to use imElfin Ultimate? It is always more convenient and useful, as almost 90% of Kindle books have DRM, simply install one software, and you can read various e-books without DRM on any device. Of course, the Calibre is also a great choice, you're able to decide which approach to solving the problem works best for you and your Kindle books.