How to Convert ACSM to Kindle Format?
How do I read acsm eBooks on Kindle? You need to download your acsm file to EPUB/PDF, and then convert acsm to Kindle format, like MOBI, AZW3.
Q: Can I convert ACSM file to Kindle? Recently I purchase a book online and download it as an ACSM file, how to read ACSM on Kindle?
Will you ask this question when you find you can't open ACSM files on your Kindle? Just keep reading to know how to convert ACSM files to Kindle and make them readable on your Kindle device.
Why do you want to convert ACSM to Kindle format?
1. If Kindle is the most used e-reader in your daily life, you must want to read all your books on it, including eBooks downloaded as ACSM files. Obviously, Amazon has its own Kindle format, so it's not easy to read the books in other formats on a Kindle device. You must convert ACSM to Kindle-supported formats.
2. An ACSM file is not a real file for eBooks, it refers to a token for the book that Adobe and your e-book provider use to let you download the actual eBook. If you want to get the eBook in the format described on the product page, you must use Adobe Digital Editions (ADE) to open ACSM file and then convert it to EPUB/PDF. Unfortunately, ADE can't be installed on Kindle, you still have to convert ACSM file to Kindle format, then you can read this book on Kindle.
How to convert ACSM files to EPUB and read ASCM on Kindle?
Step 1: Convert ACSM file to EPUB/PDF
When you get an ACSM file, the first thing you should you is to open it and convert it to the actual eBook that might come as an EPUB or a PDF format.
Solution 1: Convert ACSM files to EPUB via Adobe Digital Editions
Adobe Digital Editions is the first and the official tool that supports reading ACSM files.
1. Download and install Adobe Digital Editions to your computer, it is available both for Windows and Mac.
2. Run ADE software, and use Help>Authorize Computer menu option to Authorize your Adobe ID to your computer. If you never used Adobe Digital Editions before, please create an Adobe ID.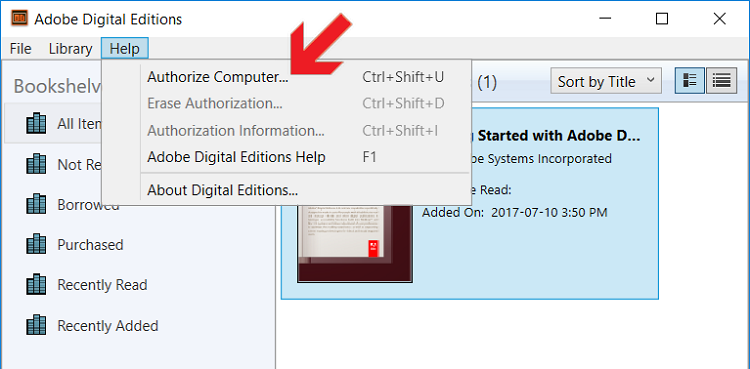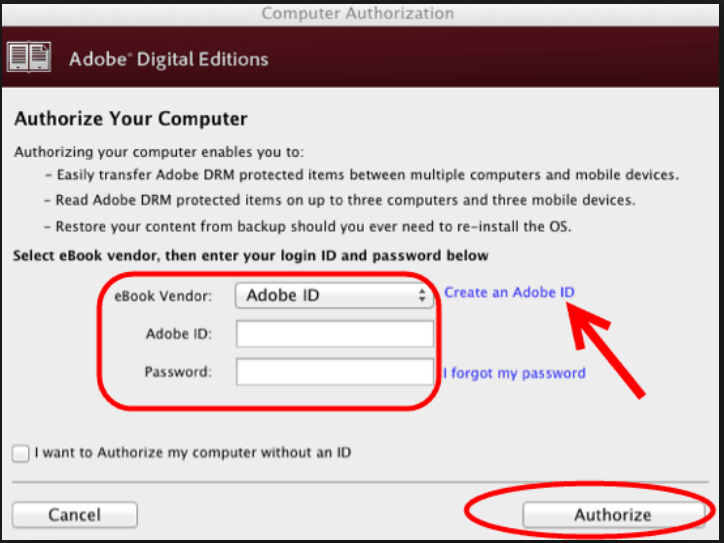 3. Drag and drop the books you'd like to convert into Adobe Digital Editions, then the ACSM file will be converted to EPUB or PDF automatically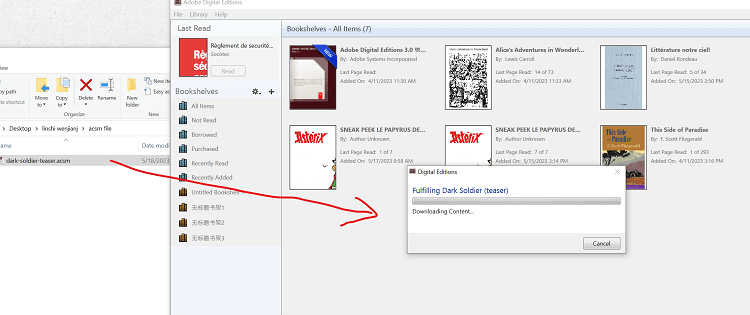 Note: Even if you convert the ACSM file to EPUB via Adobe Digital Editions, it doesn't mean that you can read it on your phone or other e-readers. You still need to decrypt ACSM file and remove Adobe DRM.
Solution 2: Use a free ACSM converter online
If you feel annoyed to use Adobe software, there is a simple way to convert ACSM file to EPUB/PDF as well as remove Adobe DRM.
1. Go to acsmconverter.com, choose an ACSM file you want to convert.

2. After the uploading is finished, and the button turns to green, click "Convert", then when converting is completed, click "Download"and you'll get your eBook file in EPUB without DRM protection.

Note:
1. It's really a simple way, but you can only use it online via your browser.
2. From a cybersecurity perspective, you are basically submitting your file on their servers, so this kind of online converter might leak your personal information or damage your files.
3. It is impossible to convert the ACSM files that have been used through Adobe Digital Editions, you can't download it again with this online tool.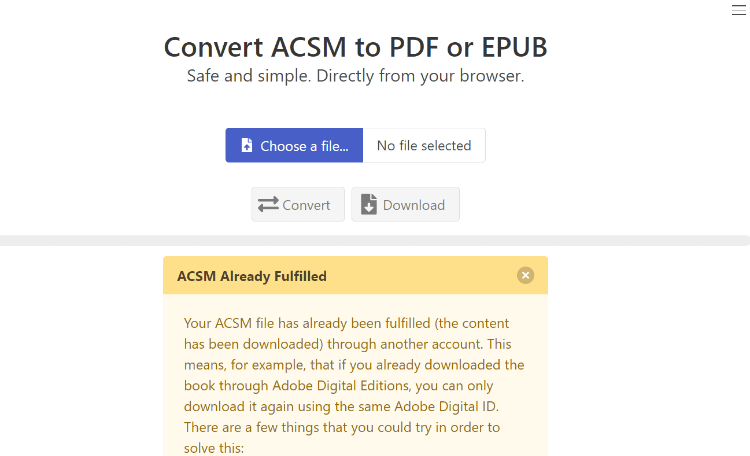 Step 2: Remove DRM & Convert format to Kindle Mobi, AZW3
Solution 1: Convert ACSM to EPUB/PDF for free via Calibre plugin
In general, ACSM files can only be downloaded to EPUB or PDF via ADE, however, thanks to Calibre plugin, you can convert ACSM files without the need for Adobe Digital Editions. More crucially, this plugin also helps you remove automatically drm from the eBooks.
1. Download and install Calibre software to your computer, it is available for both Windows and Mac.
2. Download Calibre ACSM plugin, this plugin allows you to convert ACSM files into EPUBs or PDFs the same as ADE.
3. Go to Preferences (in Calibre toolbar) > Plugins > Load plugin from file. After successful DeACSM plugin installation, restart this software to ensure it would take effect.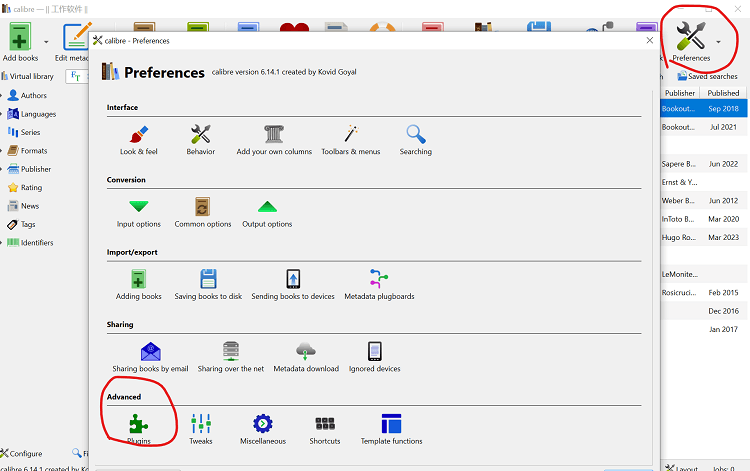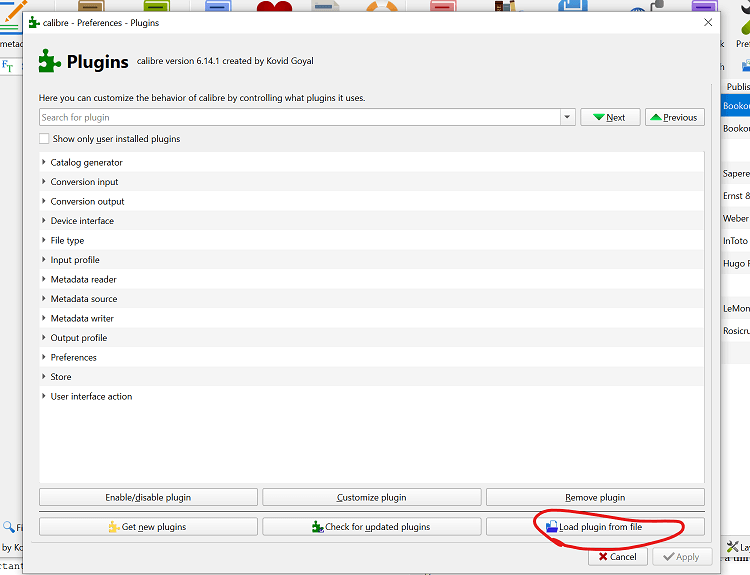 4. Set up DeACSM plugin settings and authorize your Adobe ID. You can find four ways to activate this plugin: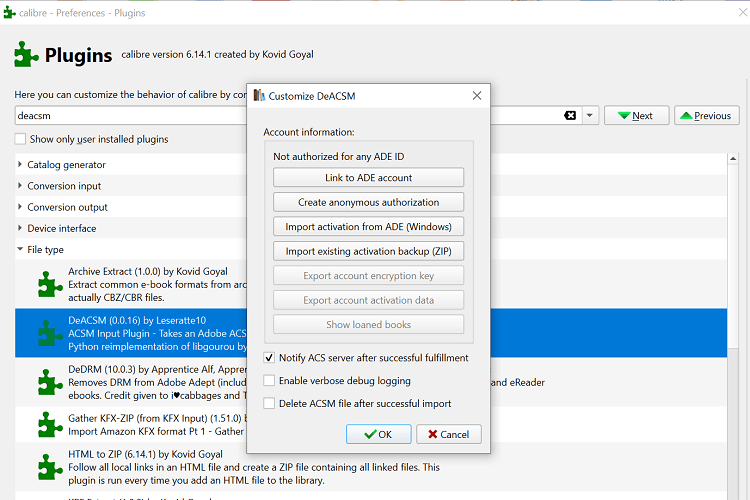 Directly click on "Link to ADE account" and enter your Adobe ID credentials to connect Calibre to your Adobe ID account. This will use up one of your available activations.
Click on "Create anonymous authorization" to authorize this plugin, but don't forget to create backups of that authorization.
If you have already installed and activated your ADE on the same computer, just click on "Import activation from ADE" to import the activation from ADE software.
If you have used this plugin and have a backup (ZIP) file, simply click on "Import existing activation backup" to restore an activation from Adobe Digital Editions.
5. After you configured the Calibre plugin, just drag and drop the ACSM files into Calibre and they'll be converted to EPUBs or PDFs which is based on their vendor servers.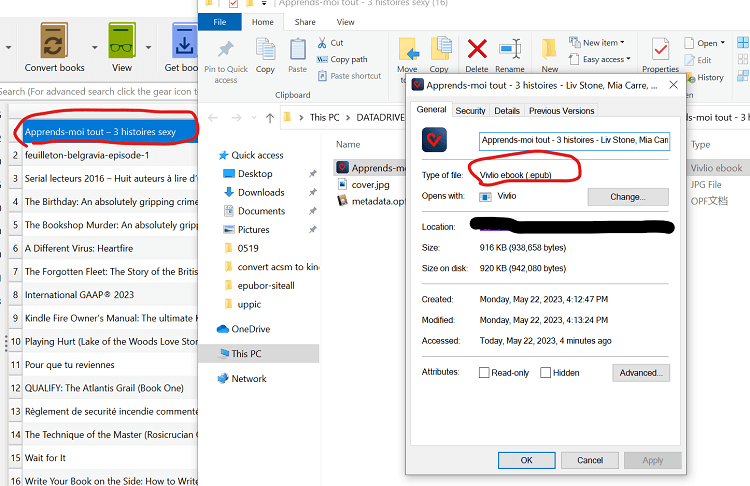 6. Select the book you want to convert and click "Convert book" on the top navigation, then you can convert this book to MOBI or AZW3 format that is supported on Kindle.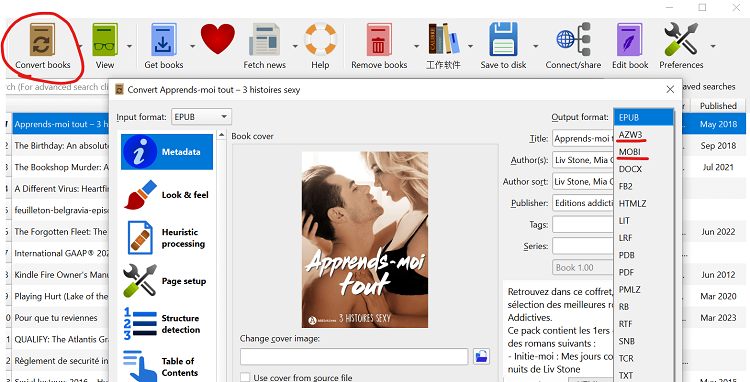 7. If you can't open this book by Calibre, maybe the book has DRM protection. Download and install DeDRM plugin to Calibre, then drag and drop the downloaded book files to Calibre again to remove Adobe DRM, and you can also convert DRM-free EPUB and PDF files to other formats.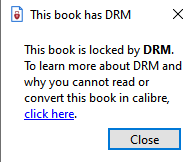 Note: Calibre DeDRM plugin is not always working for all DRM-protected books, so you need to choose a Calibre's alternative to remove Adobe eBook DRM.
Solution 2: Use imElfin Ultimate to convert ACSM files to Kindle formats
Is there an easier but safe way to convert ACSM files to EPUB/PDF as well as remove DRM? Yes, of course, imElfin Ultimate is a good idea.
Download imElfin Ultimate for FREE
1. Download & Install imElfin Ultimate to your computer, it's compatible with Windows and Mac.
2. If you have downloaded the ACSM files to EPUB/PDF via ADE, simply run imElfin Ultimate, and then you will see the eBook files listed under the Adobe tab. You can drag and drop the files to the right area, and the DRM will be automatically removed.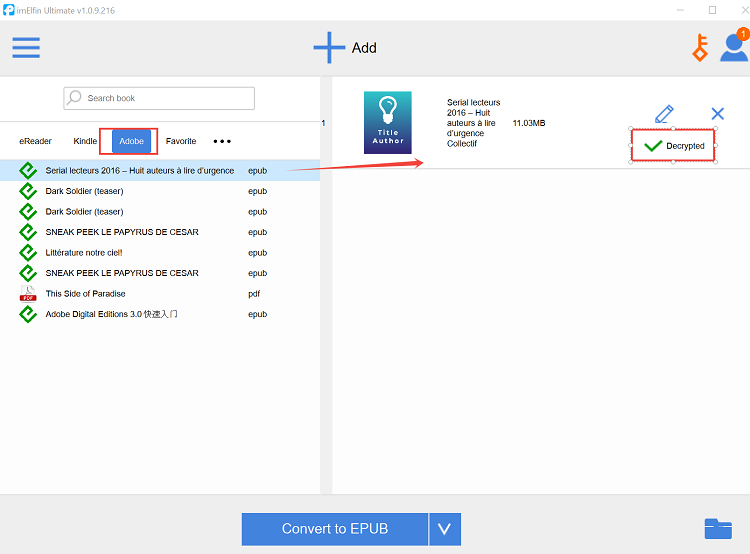 3. Select MOBI/AZW3 in the drop-down list as output format, then click the convert button, and you can get the converted files that are supported on Kindle.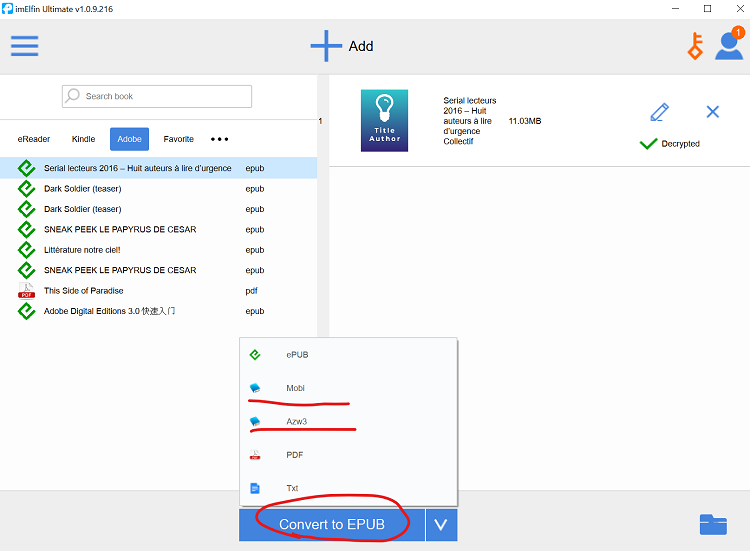 Additional Step: Transfer DRM-Free books to Kindle
If you want to read the converted DRM-free books on your Kindle device or Kindle app, please transfer the books via Send to Kindle. It allows you to transfer documents directly to your Kindle Library through Send to Kindle for Web, by email or with the Send to Kindle app. If you want to send files of more than 50MB, you can also use the Send to Kindle webpage, which has a generous 200 MB file size limit.
Conclusions
As you can see, there are various methods to handle ACSM files. If you want to enjoy books in ACSM on Kindle, just download ACSM files to EPUB/PDF, then remove DRM and convert them to Kindle formats. Of course, don't miss out imElfin Ultimate software, that makes it easier and more convenient!